haomei aluminium offers a wide variety of tread plate in both 3003 and 6061 alloys. Commonly referred to as "Diamond" due to its raised diamond-shaped pattern, tread plate exhibits strength, durability, ease of welding, corrosion resistance and skid resistance. Tread plate is available in 3003 with the typical H22/24 temper where welding is readily accomplished. For the highest strength applications, Tread plate is stocked in 6061, frequently heat treated and aged to T6 temper.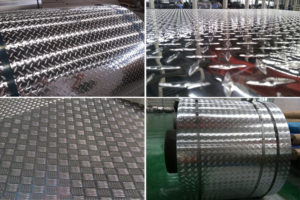 Stock Alloys: 3003, 6061
Aluminum Tread Plate Applications
Loading Ramps
Stair Tread
Flooring
Dock Plate
Dock Board
Decorative purposes
Fire Trucks
Ambulances
Recreational Vehicles
Tread Plate is stocked in thicknesses of .063 – .500 and all material meets ASTM and/or AMS specifications. With our processing capabilities, we can produce to your specific requirements.
Our quality Aluminium Checker Plate and Aluminium Tread Plate has a 5 bar raised grip pattern to give it fantastic grip properties and helps improve safety. Aluminium Checker Plates non-skid properties mean that it is commonly used for various different uses including vehicle and trailer floors, ramps, industrial settings, for protecting walls and buildings and more recently for shopfitting and interior design. Our Aluminium Checker plate is available in three various thicknesses suitable for various uses. We also have a range of sizes in various lengths in stock for a quick delivery.