What is aluminum alloy plate? Most people just know aluminum element rather than aluminum alloy plate. So things happen that when you want to buy aluminum sheet, aluminum foil or aluminum coil, you just tell suppliers that you need them, but for more details, you cannot provide. So here I would like to share some knowledge about aluminum alloy plate and its classifications. (Take aluminum sheet of haomei Aluminum as example)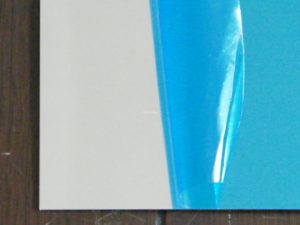 Aluminum Alloy plate Classifications
1xxx Series Aluminum plate (pure aluminum instead of alloy):
The typical alloys include 1050, 1060, 1100, etc. The first Arabic number 1 represents series, which means this alloy contains lots of aluminum without adding other chemical elements. For example, 1050 means it has 99.5% Al content. What's more, And for this feature above, 1xxx Series aluminum sheet usually in soft temper, which is called O temper in aluminum industry.
3xxx Series Aluminum Sheet:
The typical alloys include 3003, 3004, 3A21, etc. 1.0%-1.5% Mn is added to Al, then came out 3xxx series aluminum sheet. Mn can improve the resistance to correction, so 3 xxx series aluminum sheet can also be called anti-rusty aluminum sheet. And for this character, 3xxx series aluminum sheet are vastly used in humid environment, such as air-conditioner and refrigerator.
5xxx Series Aluminum Sheet:
The typical alloys include 5052, 5005, 5083, 5A05, etc. 3%-5% Mg is mixed to Al, thus, 5xxx series aluminum sheet can be made. The features of this alloy consist of low density, high strength and elongation. So it can be used for oxidation and deep processing.
6xxx Series Aluminum Sheet:
The typical alloy is 6061, which mainly contains Mg and Si. 6061 has almost all the features of 3xxx and 5xxx series. What's more, it is also easy to be coated. Above all, 6xxx series aluminum sheet is highly suitable for anti-correction and high oxidation applications.
7xxx Series Aluminum Sheet:
The typical alloy is 7075, and it mainly contains Zn. 7075 can eliminate the inter stress, so it no deformation occur after processing. All the thick plate will be detected by ultrasonic wave to guarantee no impurities or blemishes. Moreover, it has good abrasion performance
8xxx Series Aluminum Sheet:
The typical alloys include 8011, 8021, 8079, etc. In fact, 8xxx series aluminum sheet is generally be made in the shape of coil, because it is too thin to stay in sheet condition. So we can also call it aluminum foil or coil. And this aluminum sheet is mainly used as cap stock, packaging foil, container foil, etc.
Conclusion
All the pure aluminum sheet and alloy can be manufactured and supplied by haomei Aluminum Quality can also be guaranteed referring to all kinds of certifications, such as SGC, CCS, SMDS, ISO14000, etc. However, if you need other aluminum products, we can manufacture at customers' need.