8011 aluminum foil lids, with one side bright and one side dull for keeping sealing, is a typical product of cap stock grade aluminum alloy used for milk sealing Foil, haomei aluminium manufacture this material with guaranteed chemical components and mechanical properties under a professional production system.
The Highlights of 8011 yogurt lid aluminum foil:
1. Wettability is over Grade A;
2. Pinhole no is below zero.
The Specifications of 8011 aluminum foil:
Temper: O
Thickness: 0.018mm-0.06mm
Width: 11-1600mm
The Applications of 8011 milk cap aluminum foil:
8011 lids foil is widely used for milk sealing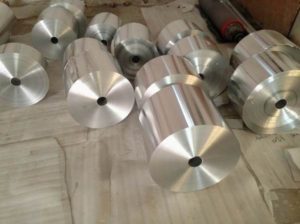 haomie aluminium, equipped with advanced equipment and technology, is one of the leading mingtai good quality 8011 hot sealing aluminum foil lids for yogurt milk drink selling well all over the world manufacturers and suppliers in China, taking Canada as its main market. Please rest assured to buy or wholesale the quality, durable and customized products at low price from our factory.
y.