Aluminum tread plate (also known as aluminum checker/checqured plate, aluminum diamond plate, Aluminium skid-proof plate etc.) has pretty cast applications in our daily life and it has many classifications. aluminum tread plate of haomei aluminium are mainly divided into 1 bar, 2 bars, 3 bars, as well as 5 bars aluminum tread plate. As the demands for aluminum tread plate is becoming more and more, many manufacturers are beginning to research and develop the technologies of it. Thus, many products with bad quality are everywhere. In the meanwhile, with 18 years experience,haomei aluminium . has been mature in aluminum tread plate processing, so all the products can reach to international standards and the quality can be guaranteed. Here as a manufacturer, haomei aluminium . will explain how to select high quality aluminum tread plate.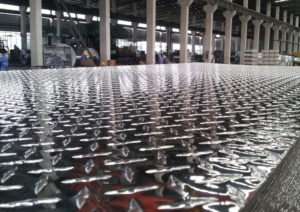 How to Select Aluminum Tread Plate?
1. Pay Attention to the Statistics of Aluminum Tread Plate
High quality aluminum tread plate should live to national standards, including raw material, thickness, strength, so on and so forth. The thickness should over 1.2mm, the strength should over 157N/mm squre, the yield strength should over 180157N/mm squre. If theses statistic cannot be satisfied, then it must be aluminum tread plate with poor quality.
2. Pay Attention to the Processing of Aluminum Tread Plate
Big manufacturers can produce aluminum tread plate with smooth surface, no scratch, oil contamination, and other defeats. Small manufacturers may use scraps of aluminum as material, which cause dark on the surface, bad properties and quality.
3. Pay Attention to the Price of Aluminum Tread Plate
Aluminum tread plate can be divided into pure alloy aluminum and alloy aluminum and the prices of them are different, too. Generally speaking, the processing fees of aluminum tread plate are several thousand RMB. Price of alloy is higher than pure aluminum. However, big manufacturers with high quality products must have higher price than that products of poor quality. So buyers should not only compare prices, but also product quality and comprehensive strength.
4. Pay Attention to the Service of Aluminum Tread Plate Manufacturer
From production to packaging, loading, delivering and other procedures, aluminum tread plate might be damaged if not cautious. Big manufacturers can provide good protection to every product in case of damage, such as cover film and paper, loading with pallet and other methods. Besides, as a good manufacturer, haomei aluminium can provide after sale service to guarantee customers' profit.