6061 aluminium diamond plate, which is also named as aluminum tread plate, checher plate, is a kind of aluminum alloy plate embossed with a regular pattern, featured with high strength, durability, weidbility as well as corrosion resistance. One of obvirous andcantage of 6061 diamond plate is anti-slip performance, which makes this aluminum alloy plate plays and improtanct roal in many occasions like lane, follor, up and down stairs, ship board, decorative plate and other fields.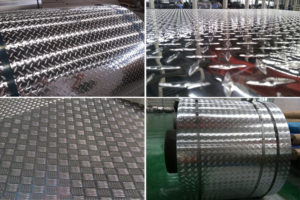 The embossed pattern of aluminum 6061 aluminium diamond plate, can be devided into 1 bars, 2 bars, 3bars, 4 bars and 5 bars aluminum tread plate. All of this aluminum plate enjoyed easy clean, high brightness so that to gain a popularity among construction decoration field.
haomei Aluminum are maily in business of aluminum 6061 diamond plate with 1-5 bars. Mainly aluminum alloy includes 1100, 3003 and 6061. Aluminum 3003 and 6061 diamond plate is our hot sale products.
Aluminum tread plate 3003 H22 and H24 featured with strong corrosion resistance and weldbility while 6061 diamond plate is famous for its high strength, durability as well as anti-slip charactoristics.heat retreat 6061 diamond plate is hard than 3003 aluminum alloy, so it is widely used in high-end products field which strictly required for the hardness of metal like stairs, anti-slip board, ship board, curtain wall as well as others field. Another imortant features attributo to its reasonable price, haomei can provied most competitive price. Good mechinary is another advantages of aluminum alloy 6061 diamond plate.
The superior performance of 6061 aluminium diamond plate Tread plate is extensively used in interior decoration and other industries field. Besides, aluminum tread plate is aslo commed used in some composite materials.
haomei aluminum provide aluminum 6061 diamond plate with the thickness of 0.8-7.0mm and the wide of 100-2600mm. the length is flexible from the range of 500-16000mm. all of our aluminum tread plate can meet international standard like AMS, is as well as EN. Most improtantly, The demension of aluminum alloy 6061 diamond plate is costumed by your specific required. The commend size is 4 inches with 8 inches. Other special size is also avaible.