Aluminum diamond plate (also sometimes known as checker plate or floor plate) is available in the alloy 3003-H22. Aluminum diamond plate has a bright finish in the 3003-H22 alloy. Aluminum diamond plate is strong and lightweight. It is also corrosion-resistant and moisture-resistant, making it great for outdoor or indoor use. The aluminium diamond plate has a beautiful pattern that is slip-resistant and provides great traction. Aluminum diamond plate has the raised aluminium diamond pattern on one side and the reverse side is smooth.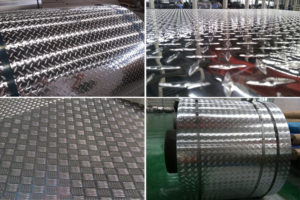 If you are looking for aluminum diamond plate, haomei aluminium Supply provides custom lengths and widths if standard 48″ x 96″ or 48″ x 120″ sizes do not work for your project. haomei aluminium Supply also provides anodized aluminum diamond plate if the standard bright finish is not what you are looking for. haomei aluminium Supply can provide other alloys in aluminum diamond plate as well, including 6061, 5086 and 5052.
The thicker 1/8 aluminum diamond plate is used for heavy duty applications which include the following:
• Column protection as well as wall protection in loading bays
• Protection of door like kick plates or as full door cladding
• In commercial vehicle interiors such truck beds, flooring in vans, car seats etc
• Making access and loading damps in hospitals and industry
• Making of tailgate ramps that are used for livestock flooring
• 4 wheel vehicle protection such in side plates, load area plates as well as mud flaps
• In making tool boxes meant for truck beds
• In shop front vandal protection
• In making stairs,step ladder and walk-ways
Thick 1/4 inch aluminum diamond plate sheets are also available for extra-strength applications such as in making pre-fabricated construction components for housing, bridges and stages. Diamond plate is available in two grades as outlined below:
• 3003-H22
This grade of diamond plating is bright and shiny, sparkles as well as being durable. This makes it ideal for decorative, cosmetic and architectural applications. This grade of diamond plating has good forming ability, drilling and welding ability.
• 6061-T6
This grade of diamond is dull, exhibits great strength and has great durability. This makes it ideal for industrial applications such as in flooring, loading lamps, trench covers,dock flooring, stair treads, elevator floors, freezer floors and garage floors. The corrosion resistance offered by this grade of diamond plating makes ideal for use in food processing industry and is very convenient in many ways.