The 5052 color-coated aluminum sheet coil is ideal for producing aluminium composite materials. Haomei aluminium coil is coated with high quality fluororesin paint which offers good weather resistance.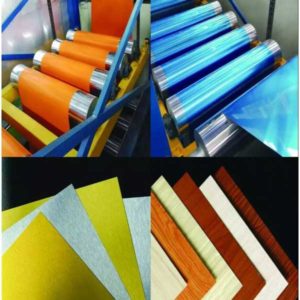 5052 color-coated aluminum sheet coil is the most popular new material currently. It is especially suitable for interior decoration and AD boards. color Coated Aluminum Coil refers to the aluminum coil through coating and coloring treatment generally includes PE coated aluminum coil and PVDF coated aluminum coil.
5052 is an aluminium alloy, primarily alloyed with magnesium andchromium.
Chemical properties
The alloy composition of 5052 is:[2]
Magnesium – 2.2%-2.8% by weight
Chromium – 0.15%-0.35% maximum
Copper – 0.1% maximum
Iron – 0.4% maximum
Manganese – 0.1% maximum
Silicon – 0.25% maximum
Zinc – 0.1% maximum
Others each 0.05% maximum
Others total 0.15% maximum
Remainder Aluminium
The similar alloy A5652 do exist differing only in impurities limits.
Mechanical properties
Tensile Strengths
Hardening Ultimate MPa (PSI) Yield MPa (PSI)
O 195 (28000) 89.6 (13000)
H32 228 (33000) 193 (28000)
H34 262 (38000) 214 (31000)
H36 276 (40000) 241 (35000)
H38 290 (42000) 255 (37000)
5052 color-coated aluminum sheet coil used Typical applications include marine, aircraft, architecture, general sheet metal work, heat exchangers, fuel lines and tanks, flooring panels, streetlights, appliances, rivets and wire.
The exceptional corrosion resistance of 5052 alloy against seawater and salt spray makes it a primary candidate for the failure-sensitive large marine structures, like tanks of liquefied natural gas tankers.