aluminium diamond tread plate is a high-cost modern materials, there are many types of furniture in a wide range of uses, such as refrigerators, air conditioners, cars, platforms, packaging pipes, screen skeleton, a variety of hanging beams, table legs, Handle, cable trough and cover, chair, and so on.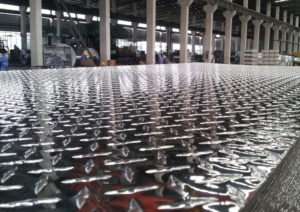 The stair as transportation facilities of vertical transportation and emergency evacuation, large flow of people, slope steep, easy to be dangerous in use, so, it's necessary to adopt slideproof measures on the stairs. It's a good choose to use Aluminium diamond tread plate to produce stairs.
haomei Aluminium can manufacturer diamond tread Aluminium plate, also called non-slip aluminum plate, is the aluminum products through pressing process to form various patterns on the surface, have good non-slide effect , the typical usage is to produce slide proof bottom aluminum plate and non-slide step stair or used in packaging, architecture, curtain wall etc. On the train stairs, we often see the exist of non-slide aluminum plate.
The 1 series, 3 series, 5 series and 6 series Aluminium alloy products in haomei  Aluminium all can be made into diamond tread Aluminium plate. Common are 1060 diamond tread Aluminum plate, 3003 diamond tread aluminium plate, 5052 diamond tread aluminium plate and 6061 diamond tread Aluminium plate etc, many kinds, can meet the need of different customers. Each series of Aluminium diamond plate in haomei Aluminium all have well anti-corrosion performance, better brazing performance, as well as strong strength, good form ability, easy processing. Corporation also has a fast on-line quenching line, not only guarantee the quality of products, but also improve the processing performance of diamond tread aluminum plate. Use the aluminum diamond plate which was manufacturer by haomei  aluminium to produce stair steps not only non-slide, but also have non-corrision and rust-proof performance.