Aluminum tread plate is the main products in anti slip aluminum sheets list, which is made by various aluminum alloys like 3003, 6061 and others. These diamond pattern plates are widely used in vehicle like automobile, subway and other public places. Based on different aluminum alloys, tread plate includes 1000 series, 3000 series, 5000 series as well as 6000 series. For pattern, it can be classified in one bar, two bars, three bars, four bars and five bars. For more details about aluminum alloy, haomei aluminium summarizes manufacturing technique of tread plate for you.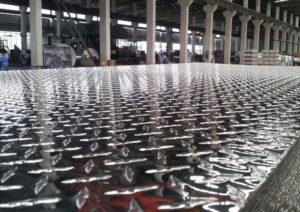 Now, high technology readiness Levels has been reached in aluminum processing industry of our country. All primary aluminum producers are capable for producing various tread plate. But how does the manufacturing process looks like and which company's products perform well? Firstly, we should ease our confusion by manufacturing process analyzing in followings.
1. Alloy
As a kind of aluminum alloy plate, the properties of tread plate decided by the elements of alloys. For example, 1000 series aluminum alloy is pure aluminum with over 99.75% aluminum while additional elements like magnesium and manganese are contained in 3000 series and 5000 series alloy. So alloy is a main element which can decide the performance of tread plate.
2. Melting
When the proper alloy is decided, the producer will put the well prepared raw material, which made by international standard, into smelt furnace. The residue and gas can be processed clean during this process. Melting is a major schedule before casting.
3. Casting
This process should be taken under cold rolling environment
4. Extrusion
Extrusion is finished under quenching and artificial aging; there are various heat treatment strengths for different alloys.
Although the process procedures are same, different producers provide with different quality. The difference can be found in technic control and products details. So it is important for customers to choose a reliable manufacturer, so that could they establish a long partnership and achieved a win-win cooperation. haomei aluminium a leading aluminum manufacturer of China, mainly in business of aluminum coil, foil and sheet. Our tread plate keeps high quality while economic prices.