6061 aluminum tread plate decorative pattern board can be done in the state of T6 and T4, like the same, can 't guaranteed for temporary bending. But the oxidation effect and other hot rolling material plate effect same, the customer may according to own wants the oxidation effect to carry on the oxidation process. haomei aluminium following the development of the traditional pattern plate 3, 5, 1 series of pointer type, two bars, three bars, five bars, on the basis of the 6061 aluminum tread plate and the development of the 6 series aluminum plate, the current export shipments have 6061/6063 T6, thickness 4.775MM, 6.35MM, 1524MM thickness, width 1219MM, 3.175MM, flower type: needle type (a rib), reinforced high 1.0MM, because of the reasons for quenching, surface brightness, although less than the mirror panel, but still more than the original color of rolling, compared with the domestic other universal board or exclusive.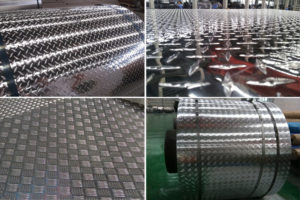 The 6061 aluminium tread plate of the haomei was higher than that of 1, 3 and 5. The high strength, high hardness and high hardness, which has the characteristics of magnesium and silicon, and has the advantages of excellent processing performance, no deformation, good corrosion resistance, easy polishing, color film, and oxidation. Other decorative pattern board uses the field is higher, the request is also high, also is other pattern board cannot surmount. 6 series pattern board is mainly used in the strength and rigidity of the equipment, such as aerospace, rail transportation, ship, building decoration, etc.
The quality of haomei decorative pattern board has a good reputation in the industry, and is in a leading position, mainly export-oriented, domestic demand high or indirect export pattern board is also based on the influence of the Thai decorative pattern board in the international market, the development of the 6 series of decorative pattern plate series, the customer's choice more widely, in the industry because of the development of the 6 series of decorative pattern will increase the Thai market competitiveness!